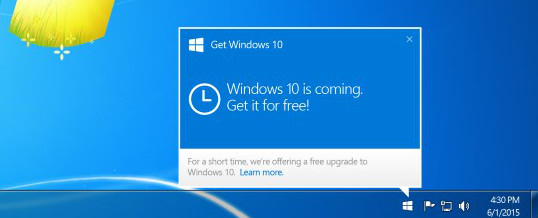 You've been seeing the notifications for weeks. "Windows 10 is coming. Get it for free!" Well it's finally here, and for Windows 7 and 8.1 users, yes it really is free (Vista holdouts aren't so lucky, I'm afraid). For those of you wondering what to do, here are some answers to the questions I get the most.
Should I upgrade?
Yes, you absolutely should, just not yet. Windows 10 comes with a few neat new features that you'll appreciate: Cortana (Microsoft's answer to Apple's Siri), a super handy quick settings tray / notification center like on your smartphone, and Xbox One integration for gamers. But what really makes the upgrade great is that Microsoft fixed so many of the things that it got wrong with Windows 8.
The Start menu is back and better than ever. The Charms bar—the thing you had to coax out from the right side of the screen every time you wanted to shut down—is long gone. Good riddance! And best of all, you no longer have to clumsily switch between the new tile screen and the old desktop you're familiar with. Both modes are present and in much improved form, but now the choice is entirely a matter of personal preference. On my tablet I prefer the aptly named "Tablet Mode." On a desktop? Desktop mode it is. It's that simple.
Sounds great—why wait?
Because bugs, security holes, and incompatibilities come with every such major software release. I've run into enough glitches in my limited use of Windows 10 that I won't be upgrading any business-critical systems for a couple months at least.
So what should I do for now?
Just sit tight and keep using your PC like normal. The free upgrade is being offered until July 29th, 2016, so you have plenty of time to act. Let the dust settle and give the industry a chance to catch up. Then when you get to upgrading you'll be less likely to have problems.
Do not open the Windows 10 upgrade assistant and click the "Reserve your free upgrade" button until you are ready to upgrade. Doing so will cause it to eat some bandwidth downloading the ~3.5GB upgrade file in the background and then prompt you repeatedly until you install it.
What if I haven't seen the upgrade messages on my computer?
There's a specific update from Windows Update that delivers the messages. If you have Windows 7, 8, or 8.1 and you're not seeing them, chances are you just haven't updated Windows in a while. Don't worry about it! That doesn't make you ineligible for the free upgrade.
What else do I need to know before upgrading?
Make a backup of your important files first just in case there's a problem. The upgrade process is really easy, though, and it will keep all your files and programs. It also comes with an option to roll back to your previous version of Windows within the first month, however I wouldn't recommend you use it unless you have to. Rolling back major upgrades is a messy business that may render your computer inoperable.
UPDATE 1/12/16:
The industry has had time to catch up, however that doesn't necessarily mean smooth sailing. Before upgrading, you should check with the manufacturer of your PC for Windows 10 compatibility. If you have a Lenovo or Toshiba system, both have published lists of compatible PCs. For Dell, you'll have to enter your service tag (printed on a sticker somewhere on the system) on their support site. If you have an HP printer, you can check with their list of compatible printers.
Warning for users of McAfee antivirus software: I have seen an incompatibility with McAfee render a Windows 10 upgraded computer unusable. Proceed at your own risk! I do not recommend their software, so it's best you remove it and switch to a better product anyway.
Helpful Links
Lenovo Windows 10 PC Compatibility List
Toshiba Windows 10 PC Compatibility List
Dell Support Site
HP Windows 10 Compatible Printers
If you have any more questions or need help upgrading, feel free to call or email us.